Every year, I struggle with special occasion gift-giving for my husband. I know so little about his hobbies, it's hard for me to figure out what would make a great gift for him, and he usually beats me to every idea I have—or worse, he guesses what it is! Surprise gift-giving is a 'Big Deal' to me, so needless to say, birthdays, holidays, and anniversaries present a real challenge.
But I wanted this year to be different! My husband's birthday marks the start of a year that we both turn 40 and have our 15th wedding anniversary—a big year, to be sure. One day, I was scrolling through Facebook, and saw that one of my friends had "liked" Kristen's page. I had always been interested in boudoir photos, but didn't know how to go about finding a photographer I could trust or feel comfortable with. After diving in to her page and website, I realized that not only did I adore Kristen immediately, but that THIS was a gift I could be sure he wouldn't beat me to OR guess what it was!
Now, like so many other women, I have struggled with the way my body has changed over time. Autoimmune issues had played havoc with my weight throughout most of my twenties and half of my thirties. It was only in the past few years that I had begun to see glimpses of the old me, and I am still working to lose weight and get my health in order, so my body is by no means perfect.
Nonetheless, experience had taught me that at every age and stage, we are more beautiful than we allow ourselves to see, and it's important to capture and preserve our vitality any chance we get. It's true that no matter how critical you may be of pictures of yourself at the time, one day when you're older, you'll look back fondly at those images and memories. Call it an approaching midlife crisis or the wisdom that comes from having more than my fair share of loss, but I know that a lifetime is a fleeting thing, and we should make every effort to savor it.
So I took the plunge and booked my session with Kristen. Since we were cutting it close to the birthday deadline, I had just under two weeks to prepare myself and my outfits. I had to work quickly and sneakily—not an easy feat considering my hubby is a keenly observant, intellectual Virgo!
Due to time constraints, I couldn't order my clothing online as I'd have liked, but I found cute pieces (on clearance, no less!) at several local shops, including JCPenney, H&M, and Victoria's Secret. I also brought along several pieces that were special to us—a t-shirt from our favorite band, the tie I sold to him 20+ years ago when we had just met and my after-school job was working at The Gap, special jewelry, etc.
There were several points along the way when I was sure he'd caught me—because we usually do everything together, I had to do some pretty fancy footwork to shop, hide my clothes, get ready, and drive back and forth to the studio, all without him noticing! Normally, I'd be second-guessing myself and asking everyone for their opinion, but this time, I was squarely on my own in picking out my outfits and getting ready. I was delighted that this adventure had the completely unexpected side effect of boosting my confidence by reminding me of how capable, strategic, and intuitive I really am. It was such an exciting and sexy game, knowing what was coming and laying my plans to make sure he was completely surprised.
On the morning of the shoot, I was nervous and excited, hopeful and even a little scared. I admit a part of me wondered if capturing these images of me was worth all this trouble, if I was worth it. Who did I think I was?? But almost as soon as I thought about it, I came to my senses. OF COURSE I'm worth it. OF COURSE he'll love them—he's been loving me in all shapes and sizes of this body for more than 15 years, after all! OF COURSE it's a great gift for a milestone birthday—what man doesn't want near-naked photos of his wife?? And OF COURSE I'm worth this trouble. Even if by some crazy chance he didn't like them, I deserve to get to see myself as beautiful and alluring—I think we all secretly have an alluring side, we just don't always know how to display it.
That's what Kristen and Meghan helped me to do that day.Meghan immediately transformed me into a red-lipped, blonde bombshell I'd never seen, then Kristen worked her magic with posing me and began snapping away. By the way, the tips that Kristen shared before the shoot about breathing through my mouth and imagining seeing my husband walked toward me really helped with facial expressions to keep me looking relaxed and sultry—a true pro tip!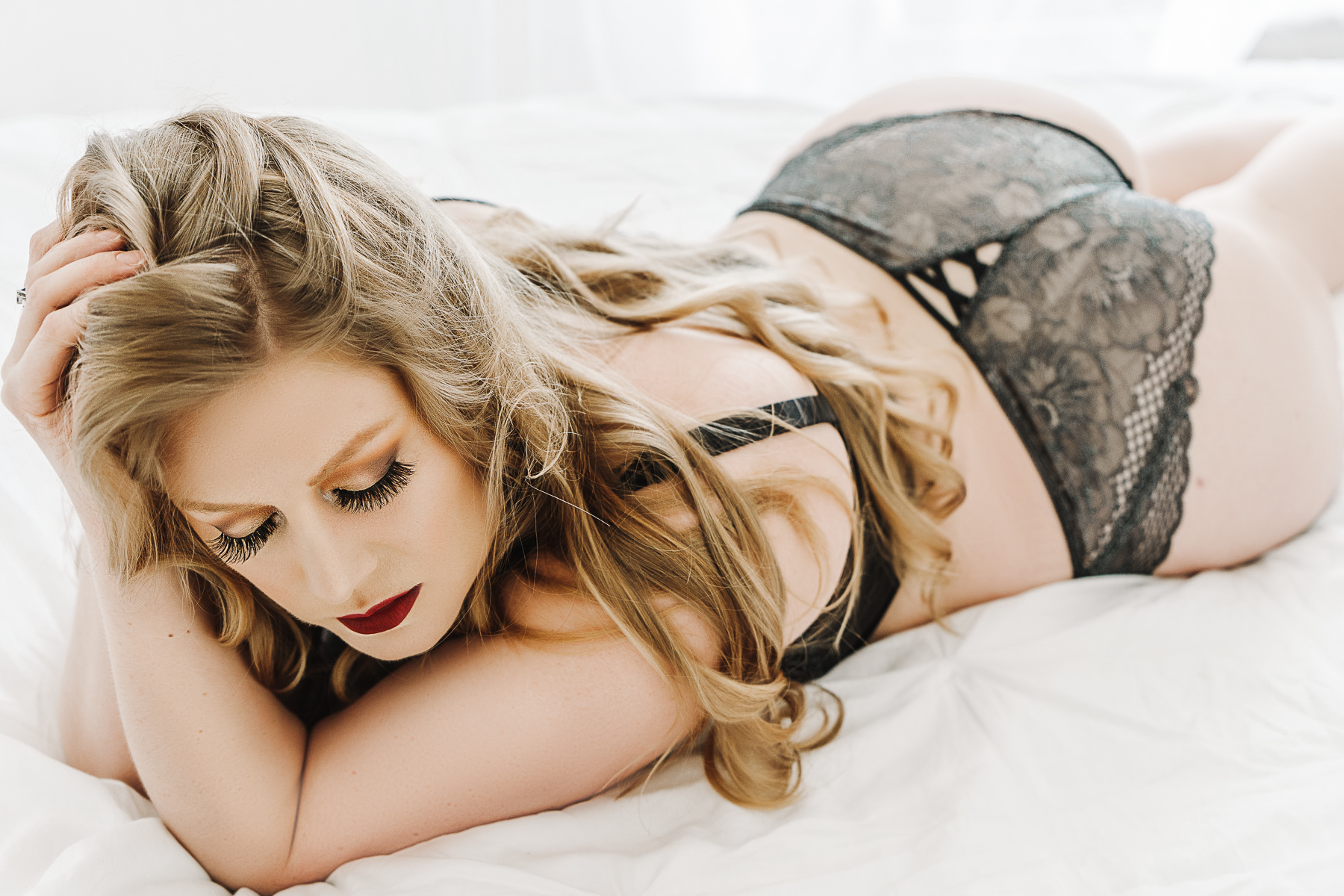 We rolled right through the morning into the early afternoon, feeding off each other's creativity to come up with shots. Kristen effortlessly understood all my ideas and expertly shot them all. It was so nice to work with another woman to get the effects I was looking for—I'm convinced that Kristen has that intuitive nature too—that she 'gets' what makes women beautiful and how to bring it out for us all.
Getting the pictures back was such an exciting moment. Kristen had over 70 images ready for me to view and choose from. They were all gorgeous! It took me a while to go through them and pick out my favorites. She also was very careful about safeguarding my identity and my images, getting my permission for precisely what I was comfortable sharing here and online. And naturally, Kristen made sure there was plenty of time to have them printed and ready to give to him before all the birthday festivities began. I brought the album home, wrapped it, and waited…
Reveal Day finally, finally, finally came…and it was a complete and resounding success!! He had no idea, and he utterly loved the album. He told me he'd secretly always wanted me to do a boudoir session, but he was afraid it would make me uncomfortable, so he'd resolved to never asked me to do it. When I told him how much I genuinely loved this experience, he told me that made him love the gift even more. In fact, I'll be booking another session in the future, and this time, he's helping pick out the outfits, which is even more fun! It's been a great bonding experience for us personally, too, inspiring a new level of intimacy between us.
The whole experience of working with Kristen has put me back in touch with the old part of me that was totally comfortable with myself as a beautiful and sexy woman. Even now, as I type this, I'm deeply aware of how impossible that would have been just a few years ago. Yet I also know beyond a shadow of a doubt that the temptress archetype lives inside us all, and if we can muster even just a little faith, there are guides out there, like Kristen and Meghan, who can lead us back to ourselves.
My advice?
Do it. Kristen has carefully built her practice to eliminate the risks and pitfalls, so don't worry—you're safe and so are your images. Be unapologetically yourself. Ask for the makeup style you want, bring the pieces that truly (truly!) reflect who you are, let your racy side out to play, and have fun! Don't be afraid to smile or laugh during your shoot—you'll get a wider variety of different kinds of photos to choose from that way.
Remember that to be sexy is your birthright as a woman. Despite what we may have been trained to believe, being in touch with that part of us is not only fun, it's healthy, normal, and gratifying. Communing with that part of our souls also has the ability to remind us that we are powerful beyond measure. And yes, yes, YES. YOU are worth it. I promise.
Declan + Mae, a Nashville makeup artist provided hair and makeup styling.