Where do I start? I found Kristen's Photography page by chance scrolling through Facebook one day and I jumped at the chance to reach out to her about booking a shoot. I had friends talk about it and I had considered it for a while. I told my husband about it, and he of course looked confused, and was like "you wanna do what?". I showed him some of Kristen's photos that she had taken of some other ladies, and said that I wanted to do it to hopefully boost my confidence and make me feel a little better in my own skin, and about packing on some pounds since we'd been together. I got in touch with her and booked the shoot, and she was so super helpful. She gave tips and ideas, as far as what to wear, what looks best on camera, what not to wear, etc.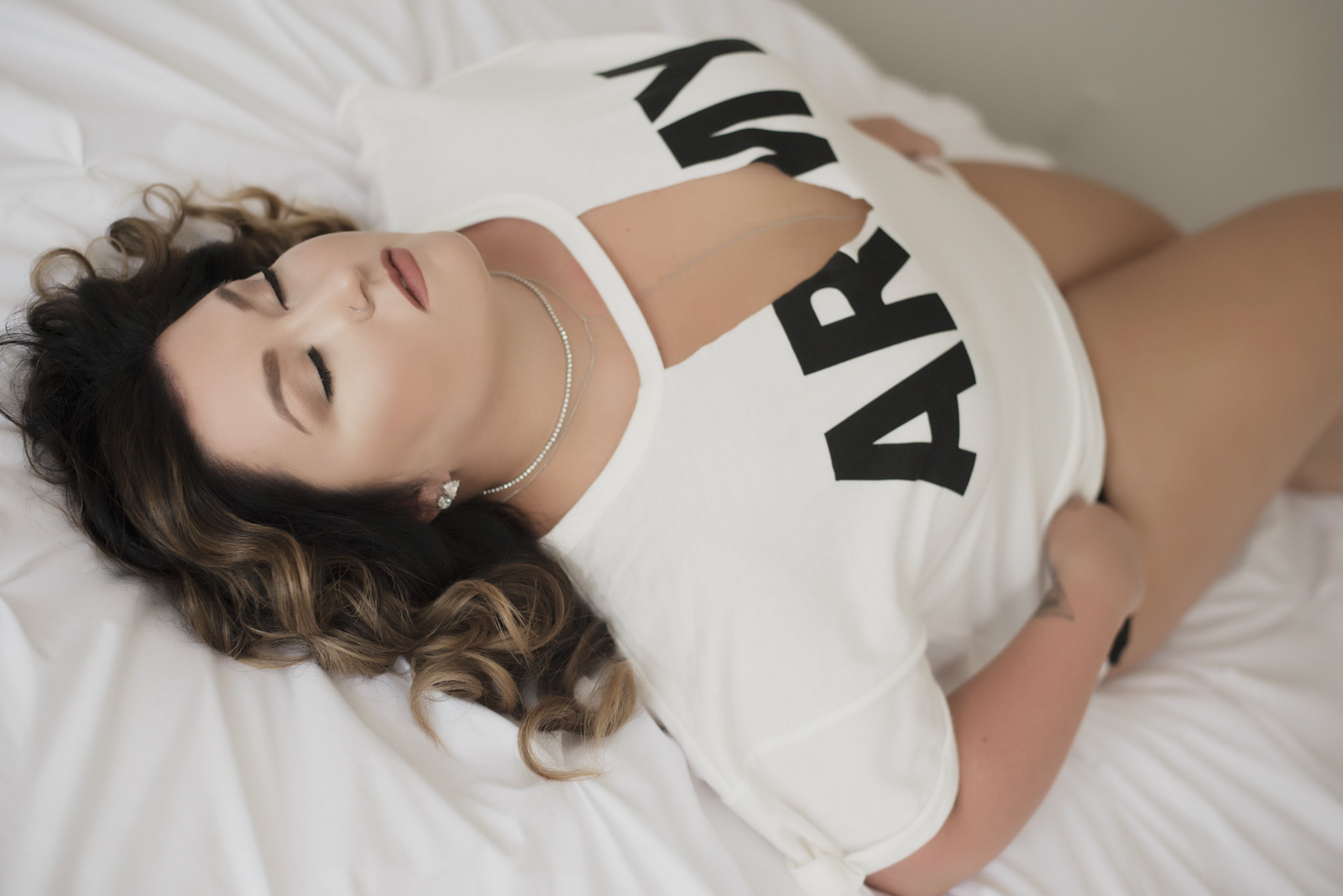 Then came shoot day! 😬 I was terrified! I called a friend on the way to the shoot and had her help talk me off the ledge. I felt like I was going to get sick I was so nervous! I couldn't make myself get out of the car, I thought what have I done? I don't have any business doing this shoot! What was I thinking? I didn't lose the weight I wanted to lose before the shoot, I'm going to look ridiculous! Then I saw Kristen peek through the window and she came outside and I had to make myself get out of the car, because it would be rude not to. Haha!
I had to tell myself to put my big girl panties on (literally), and remind myself that you are fierce, you are a badass woman that isn't afraid of anything, and you can do this! 💪
Kristen came out and like I had known her for years, arriving at a friend's house, helped me get my things out of the car and from that moment we started chatting and I forgot why I was so scared. Brie came in and we talked makeup, and then the 3 of us were there hanging out like we didn't just meet, it was like I had known them my whole life.
Kristen planned everything out, what outfit I was going to wear first, second, third, and then we got started. I was scared it was going to be one of those situations where the photographer says to you "give me your sexy face" and then the face you give looks like something a 3 year old drew with his/her left hand, but only they're right handed. Hahahaha! 😂 It wasn't like that AT ALL! She literally climbed on the bed, or down in the floor and posed herself how she wanted you to pose, and then once you did that she perfected it by telling you to look down or up, and eyes open or closed, chin up/down etc. It was a breeze! 😎
We talked the entire time (when I wasn't posing and supposed to have my mouth shut). There wasn't a minute that went by that was awkward or silent or "oh my god my nipple is out", it wasn't weird at all, she made me extremely comfortable! So much so, that at the end of the shoot I was just in my panties and I didn't feel weird about it at all. Me and my big girl panties felt like we could take on the world! 😂
I waited months before going to see my photos. I thought that I hadn't lost the weight I wanted to lose before the shoot, so I'm not going to like any of the pictures. I'm my own worst critic, and I thought I would look big or that my "sexy face" would look ridiculous and I wasn't going to buy them, so there's no point in going to see them. I struggled for a while with that. I had talked myself off the ledge to do the shoot, and then climbed right back on it and convinced myself I didn't want to see the pictures. Then I told my husband, "okay let's go see the photos, we're not going to buy any of them, but I want you to at least see them."
The first photo popped up on the screen and then the second, and the video kept playing with the background music, and I was speechless! I became emotional, I couldn't believe that I looked like that, that I was beautiful and the pictures looked AMAZING! Tears came to my eyes, and then I told myself that it would be weird if Kristen saw me crying, and my husband would definitely make fun of me, so I sucked it up and held it together. I was blown away by how the pictures turned out. I couldn't believe that she captured me like that, it's a way I had never seen myself before, and my husband was over the moon in love with EVERY photo. He wanted to buy them all! I had to talk a little sense into him, we couldn't buy all of them even though he wanted to, but we did buy a lot of them and there's not a single one that I'm not proud of!
Kristen is absolutely amazing at what she does. She's a delight to work with, she's so talented, and she made me see myself a way I had never thought possible. BEAUTIFUL! Every woman should do a boudoir shoot, it's so empowering and eye opening. I am not ashamed of my body or that I didn't lose that extra weight I wanted to lose, because it turns out that I'm perfect just the way I am! 😊
My husband is so excited about his album (I let him pick everything out)! I asked him on the way home after seeing the photos if he really liked them, and his response made me feel all the feels. 😭 He said, of course I love the photos they're of you and I love you, and I get to see you in a way that no one else does, and it's beautiful! ❤️
So, DO IT! Book the shoot, feel all the excitement, get pampered, and most importantly HAVE FUN with it! The photos will be absolutely jaw dropping and you won't regret it! I DON'T! I'm ready for my next shoot! 😉